Da de første meningsmålinger kom ovenpå nedlukningen af Danmark, stod det klart, at Socialdemokratiet stod til en stor fremgang i meningsmålingerne og dermed sad tungt på magten. Ikke alene stod Socialdemokratiet stærkt, men rød blok havde et komfortabelt flertal.
Det er dog først i løbet af de seneste måneder, vi kan konkludere, at Socialdemokratiet har konsolideret deres opbakning i meningsmålinger. Der er dermed ikke tale om en kortsigtet effekt. End ikke minksagen ser ud til at have rykket nogle vælgere væk fra Socialdemokratiet.
Derfor vil jeg også tillade mig at komme med et kvalificeret gæt på, hvornår vi vil se et folketingsvalg: 16. november 2021.
Der er flere grunde til dette. For det første, som kvikke hoveder allerede har bemærket, er det samme dag som der er kommunal- og regionsvalg. Der afholdes normalt kun kommunal- og regionsvalg den samme dag, men der er tilfælde på tripelvalg, hvor der også afholdes folketingsvalg (senest i 2001). Hvis coronatallene desuden ser fine ud til den tid, kan det sågar være at foretrække at slå to fluer med ét smæk.
For det andet, og vigtigst af alt, går det godt for Socialdemokratiet. Kigger man på min seneste prognose står partiet til at få 32,2% af stemmerne. Det er omkring 20 procentpoint mere end Venstre, der nu ligger på niveau med Konservative.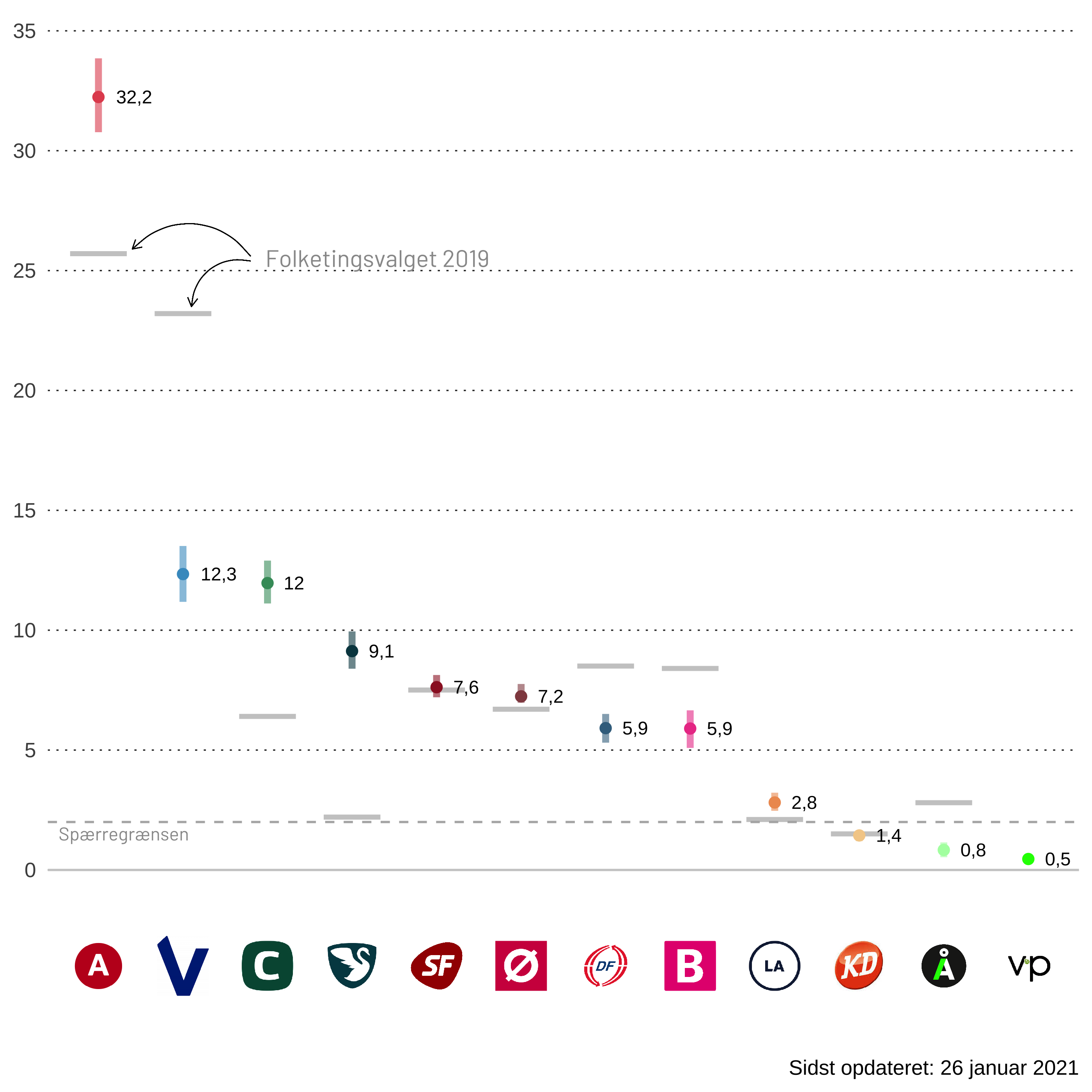 Kigger vi på nogle af de seneste lokale meningsmålinger, ser det også godt ud for Socialdemokratiet. I Hedensted Kommune står partiet til at gå fra 27,8 pct. til 33,7 pct. af stemmerne, og der er lignende historier om fremgang til partiet i Horsens Kommune, Odense Kommune og Bornholms Kommune. Dette bekræfter hvad vi ved fra tidligere kommunalvalg, altså at der er en national valgvind, hvor partiernes nationale opbakning smitter af på deres opbakning ved kommunalvalget. En sådan valgvind kan potentielt blæse endnu stærkere, hvis valget afholdes samme dag, hvilket kan give Socialdemokratiet endnu et incitament til at udskrive valg.
Forskningen har vist, at politikerne er opportunistiske og er mere tilbøjelige til at udskrive valg før tid, når det går godt i meningsmålingerne (effektstørrelserne i studiet er dog små). Det vil være oplagt for Socialdemokratiet at smede mens folkestemningen er rød. Hvem ved hvordan folkestemningen ser ud om et år? Og hvad hvis blå blok kan nå at mobilisere et egentligt regeringsalternativ til den siddende regering? Det vil alt andet lige være optimalt for en regering, at udskrive valg i 2021.
Jeg kan selvsagt ikke gøre mig overvejelser om, hvorvidt Socialdemokratiet allerede har gjort sig overvejelser herom. Der er dog intet i deres adfærd eller udsagn hidtil, der synes at signalere, at de har tænkt sig at vente længe med at udskrive valget. Jeg vil sågar mene, at den seneste regeringsrokade, med endnu et ressortområde til Kaare Dybvad, så han også bliver indenrigsminister, vil klæde partiet godt på til et tripelvalg.
Det skal nævnes, at jeg ikke er den første til at lufte disse tanker. Erik Holstein, politisk kommentar for Altinget, udtalte således forleden til selvsamme Altinget: "Et valg til foråret er meget usandsynligt, men det er derimod en realistisk mulighed, at der kan komme et folketingsvalg i november sammen med kommunalvalget. Her vil Mette Frederiksen have en legitim undskyldning for at bede om et nyt mandat efter coronakrisen, og det vil se praktisk ud at slå de to valg sammen".
Dette er selvfølgelig blot et gæt. Der er stadig mere end to år til, at der skal udskrives valg. Og end ikke politiske kommentatorer, der går meget mere op i dette end jeg, er altid enige om, hvornår der udskrives valg (se eksempelvis dette indlæg fra 2015). Ligeledes er der stadig en masse ubekendte variable (hvordan vil det gå med coronavaccinerne? hvordan vil det gå med opbakningen i målingerne?), men hvis det fortsætter som hidtil, har jeg svært ved at se, hvorfor Mette Frederiksen ikke skulle udskrive valg med afholdelse 16. november 2021.