The blog Marginal Revolution turns 20 today. Not many blogs that were active 20 years ago are still active today, if they are even available online (one other exception is Crooked Timber, a blog that turned 20 last month). A while ago, I decided to go through all posts on Marginal Revolution. I started with the first blog post published in 2003 (twenty years ago today) and then read/skimmed/skipped through the various posts over the years. While I did not read all posts (let alone a majority of them), I did go through each page in the archive – and I had a great time doing so.
There are multiple reasons to read a blog from start to finish, especially a blog like Marginal Revolution. First, while it takes a bit of time, the (marginal) return is great. A lot of posts are easy to skip and you quickly notice a survivorship bias in the URLs that are shared. In other words, it is easier today to evaluate whether a post written ten years ago is still relevant or not today (compared to your reading of the post, say, ten years ago). You might even find some posts that are more relevant today than when they were published.
Second, there is a lot of variation in themes (markets in everything, Straussian readings of 'current' events, etc.). (For some of the terms used on the blog to this day, check out this MR vocabulary guide from 2009.) The figure below illustrates the core categories being covered. While 'Economics', unsurprisingly, is the most popular category, you see themes such as 'History', 'Science', 'Food and Drink', 'The Arts', 'Travel', etc.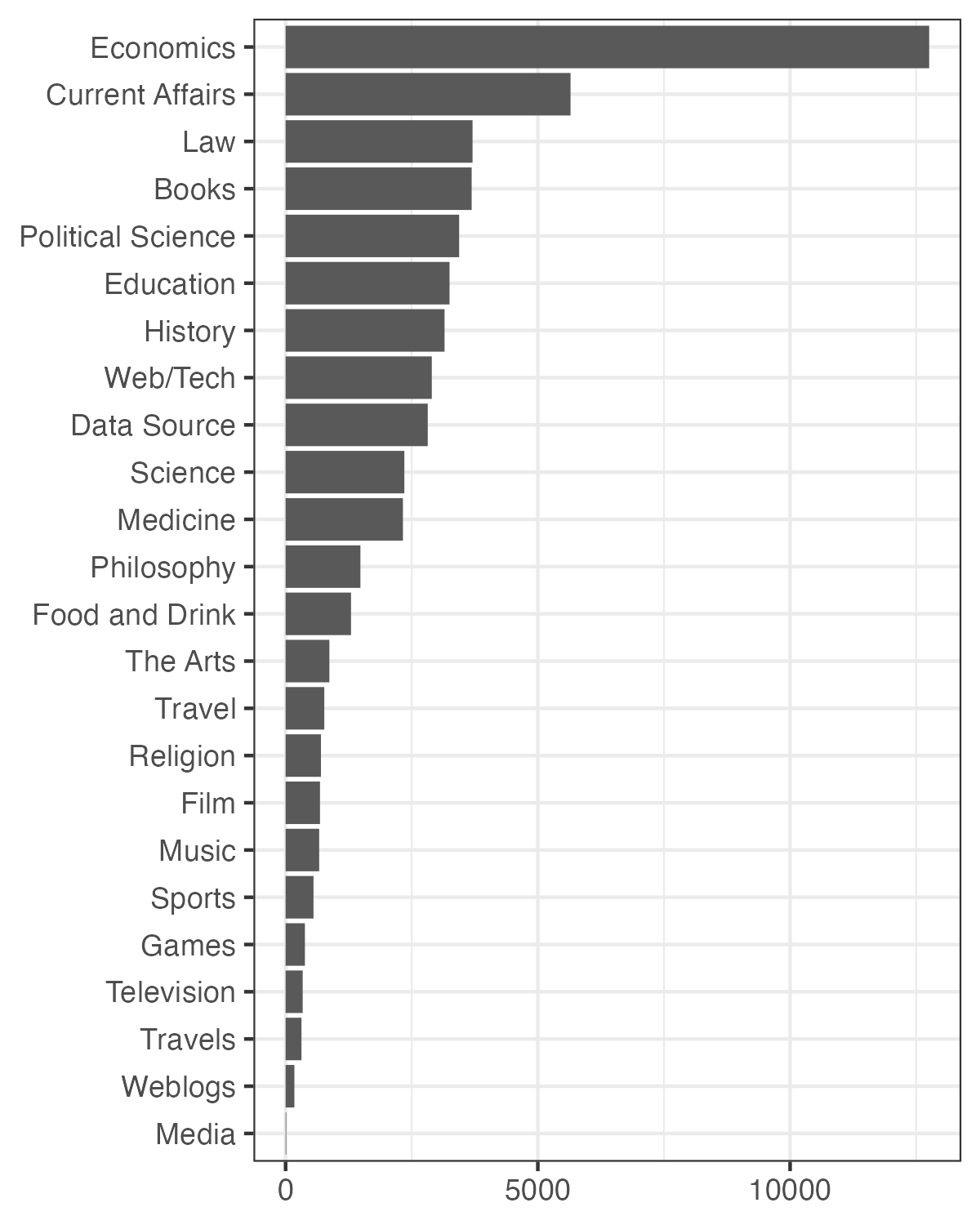 Third, it is a fun trip down memory lane. 20 years of material is a lot of material and a bit of history (covering everything from the war in Iraq and the financial crisis to Brexit and Trump and the COVID-19 pandemic). I found it interesting to see when specific topics where covered for the first time. Bitcoin, for example, is – from what I can see – first mentioned in a blog post on June 28, 2010. If you had invested USD 1 in bitcoins back then, you would have more than USD 500,000 today (I used this Bitcoin Return Calculator, but the oldest start date it would accept was July 17, 2010).
Fourth, you will find a lot of inspiration for additional material and other things to check out. In January, I wrote a post on Tyler Cowen's favourite things (Tyler Cowen plugged the post in one of his daily assorted links). Tyler Cowen often writes about what he has been reading lately (see, e.g., here for his most recent post), and you will often find a good recommendation or two for a new book to check out.
Fifth, you get the opportunity to write a blog post about having looked at twenty years of MR (you might even, at this point, call yourself a loyal reader). There has already been written quite a bit on and about the blog. For example, for quantitative analyses of the blog, check out this post (from 2023), this post (from 2022) and this post (from 2016). I like these "meta readings" of blogs, and I would like to see people write similar blog posts covering their favourite blogs.
The great thing about Marginal Revolution is the combination of the rigoriousness of economics with the idea that most things of importance are downstream of culture (in a similiar fashion that the best sociologists are familiar with data science). With the series of 'markets in everything' as an exception, this is somewhat anti-Beckerian economics, i.e., the idea that everything can be understood on the basis of a few economic principles or axioms. It can sound trivial, but sometimes it is refreshing to get a bit more nuances on things rather than analysing things from first principles (some might even say that context is that which is scarce).
I decided to bookmark links to several posts that can easily be read today, just to save a few examples of posts for this post. Here they are:
I also stumbled upon a lot of interesting facts/hypotheses/jokes/observations/ideas. Here is a sample of 25 such examples (do read the title of the blog post in parenthesis first to better understand the respective examples):
When the blog turned ten, Tyler Cowen wrote: "The reality is that I was too busy reading stuff, and traveling, and writing, and grading comprehensive exams and preparing for class, to even notice. Maybe that's the proper retrospective right there." I hope the same is the case now the blog is turning twenty. Here is for another twenty years of MR.