You cannot go on a flight without increasing your personal carbon footprint. But how much are you – on average – increasing your carbon footprint when you fly from, say, London to New York? And how much do you need to pay in order to offset your flight? Luckily, there are popular state-of-the-art carbon calculators that let you enter your departure and arrival destination in order to give you an estimate on the amount of CO2 (or CO2e) that your specific flight has caused – and how much you should pay to offset your flight.
There has been some research on online carbon footprint calculators. Mulrow et al. (2019), for example, provide a review of 31 online carbon footprint calculators that help people calculate their carbon footprint in relation to home energy (e.g., electric, gas, heating oil, wood, and charcoal), transportation (e.g., car, motorcycle, bus, train, tram, subway, ferry, and taxi), air transportation (i.e. flights), food, water/waste water and other categories (such as recycling). Interestingly, for air transportation, they find significant variation in how detailed these calculators are. Some just let users pick whether they have been on a short or a long flight, whereas the best calculators let people pick the origin and destination airports.
It is not as simple as one might think to calculate the carbon emissions associated with a flight. Birnik (2013) describes two relevant quality principles for online carbon calculators in relation to transportation emissions, namely that they should allow users to 1) model their transportation related emissions in detail and 2) include radiative forcing of flights when modeling flight emissions. Accordingly, there are a lot of technical aspects to consider when calculating the carbon emissions associated with a flight. Do we simply rely on the shortest distance between departure and arrival airports? Do we include a detour factor? What about the aircraft type? And what about the fact that the fuel consumption differ between short-haul and lang-haul flights? And as carbon emissions are often calculated by dividing the average number of seats on an aircraft and multiplied by the load factor, should you pay more if less people are on the flight? And what about the emission of other greenhose gases alongside carbon?
Unsurprisingly, different calculators end up with different estimates for the same flight. This article, for example, states that: "A long-haul return flight to New York from London can produce anywhere between 0.9 and 2.8 tonnes of CO2." And this great post argues that you cannot always trust flight emission calculations. This made me wonder whether flight emission calculators not only provide different calculations, but also what the implications are for what people need to pay in order to offset their flights.
I decided to collect data on how much it would cost to offset your flight from London to New York from different carbon credit sellers. Specifically, I looked at data from atmosfair, C-Level, Carbon Footprint, Carbon Habitat, Clear, ClimateCare, Co2nsensus, CredibleCarbon, Ecosphere+, GoodPlanet, Greentripper, Leapfrog, myclimate, Offsetters, South Pole, TerraPass, World Land Trust, Wren, and Zeromission. These carbon emission calculators all allow you to pick your departure and arrival airport and then give you an exact price for how much it will cost to offset your flight.
There is a lot of variation in the level of detail in the different calculators. Some of the calculators include radiative forcing (e.g., Carbon Footprint), and some calculators let you provide detailed information on your flight, e.g., atmosfair (flight type and aircraft type). The various assumptions these calculators rely on will lead to different emisions estimates. However, we do not how much variation we will see in the offsetting prices, i.e., how much you will need to pay in order to offset your flight.
For my small-scale analysis, I picked London Heathrow Airport (LHR) as the departure airport and John F. Kennedy International Airport (JFK) as the arrival airport for a direct flight (no stopover, no return). I also did the same but with a non-direct flight (with a stop in Amsterdam Airport Schiphol, AMS). Last, I also did a short-haul flight from LHR to AMS. For all trips, I selected one person. I got the carbon emisisons and prices for all flight classes that were available (Economy, Business, etc.). If different offset projects with different tCO2 prices were available, I would pick the cheapest.
This gave me a total of 155 estimates. The flight emission calculators do not only report different emission estimates, but also very different prices to offset the flight. As is clear from the figure below, we see very different carbon emission estimates and prices (in GBP).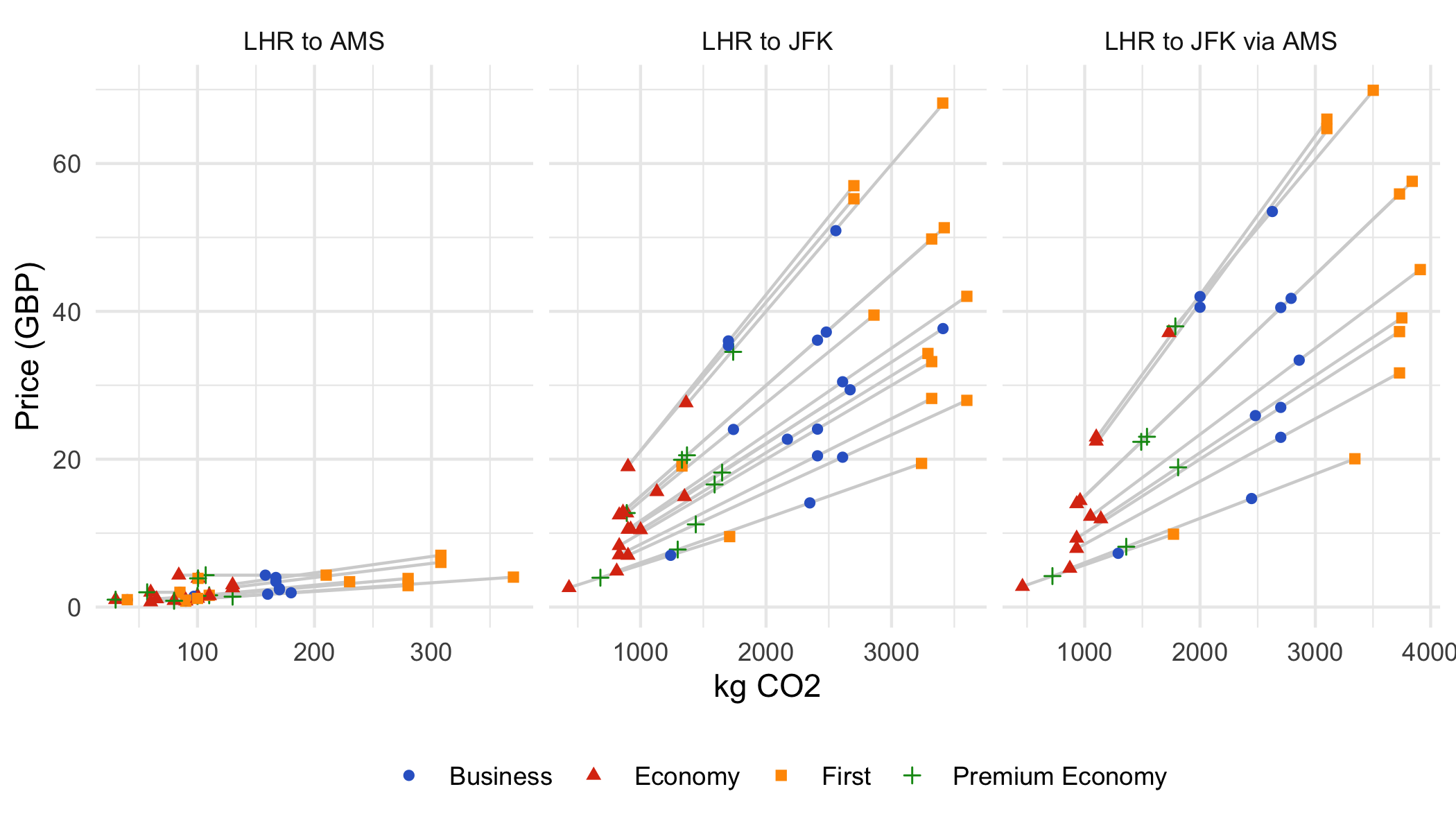 In the figure showing the flights from London to Amsterdam, we see relatively identical prices despite some variation in the emission estimates. However, for a long-haul flight from London to New York, we see offset prices – for a first-class flight – in the range of £10-70. This indicates that it is not an exact science to calculate how much you need to pay in order to offset your trip.
We can see that there is also some variation in the estimates on how much carbon is being emitted. Conditional upon the flight type, the data here shows that you can emit anywhere from below 1000 kg CO2e to above 3500 kg CO2e when you fly from New York to London. As a fun fact, between 2000 and 5000 kg CO2e is the amount of carbon it takes to produce one kg of dried cannabis flower in the United States (cf. Summers et al. 2021).
The variation in the prices can – at least partially – be explained by the different projects the carbon credit sellers buy credits from. While most of them buy credits from verified projects, there is still a lot of variation in the quality and costs. Sadly, there is a lack of transparency in the market and it is not easy to assess the quality of the projects that different carbon credit sellers offer. However, I would definitely not go with the cheapest prices in the figure above if I was about to offset a flight.
You should care about reducing your carbon footprint. Seriously. However, don't see flight emission calculators as very precise (especially when looking at the price of offsetting) and, as always, do consider low-emission alternatives to flying when/if you travel.